We have designed our services to handle a variety of dairy goods, including all types of cheeses, while saving you time, storage space, and money. Our services include:



Custom reclamation

Full-service cheese processing

Cheese grading

Cheese shredding

Packaging

Product transportation

Product marketing

Product storage


Our staff carefully documents and thoroughly tracks all shipments and services.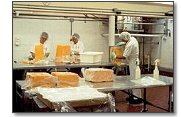 Custom reclamation
Lots of storage space!